With a band that's been quoted as saying they want to "save people's lives," it just takes a quick survey of My Chemical Romance fans to realize that this New-Jersey five-piece may just have succeeded.
In the front row alone, fans had made the pilgrimage from as far away as New Zealand and Finland, and the pit was packed with the the faithful, some of whom had camped out the night before for the right to claim their piece of the rail.
With news that the band would take an extended break to rest and record their next album, several fans took this current tour as an opportunity to follow the group around the country, while others had seen the group at concerts numbering into the double digits.
After a fiery performances by Billy Talent and Drive By, the scene was set for an explosive set by New Jersey's favorite makers of "violent, dangerous pop," and as the band took the stage, a rafter-shaking roar erupted from the house.
Lead by frontman Gerard Way, the band wasted no time launching into a tight set honed by nearly two years of touring in support of their 2006 release, The Black Parade. Chocked full of the fan-favorites, the performance had the audience members testing their lung capacity as they sang along to every song, from start to finish.
Compared to their support of The Black Parade in late 2006 and 2007, this performance was decidedly more low key in visceral impact, with much less of the theatrics and bombastic dressings of the past tours.
In place of the black marching band uniforms of their Black Parade personas, the band's attire on stage was casual. Way sported a weathered denim jacket and his younger brother Mikey rocked his signature "Mikey Fucking Way" shirt, while Ray Toro plugged openers Drive By wearing one of their tees.
The set list included a rundown of the band's anthems, including "I'm Not OK (I promise)," "Teenagers," "I Don't Love You," and the closing "Helena," in addition to a small selection of band-favorites and lesser-known tunes.
Introducing "Welcome to the Black Parade," Way made an open invitation to the audience. "I'd like you to sing this next jam with us," asked the singer, adding facetiously, "We only write jams, not songs."
As Way sang the eponymous track to band's 2006 release, he plead, "I'm just a man, I'm not a hero / Just a boy who's meant to sing this song / Just a man, I'm not a hero." Even as they chanted along, there were 2,300 fans eager to disagree.
Photographer's Notes:
This set was extremely challenging to photograph due to a combination of the lighting, stage setup, and constant movement by the band on-stage.
A pair of monitors flanking his mic stand at the edge of the stage seemed to keep Gerard Way from launching into the audience, and the singer performed with a foot up on one of the speakers for almost the entire set.
Ray Toro played about a meter back from the front of the stage and kept a tight orbit near his mic stand to deliver support on vox, while Mikey Way and Frank Iero also played slightly farther back from the stage.
I shot in the pit with three other photographers and a number of watchful security personnel. Despite the fairly deep photo pit, there was generally a lot more chaos in the alley than usual as the photogs scrambled to work angles on Gerard with the available light.
Lighting:
Two arrays on either side of the stage angled in toward Gerard Way, providing a strange combination of warm white side/back lighting. These hot lights flared up individually and also in combination, which made anticipating the timing all the more tricky.
While the two side arrays provided the primary light source, washes of blue from the front and cool white light from the back provided accents for the band. A generous amount of smoke filled the stage to fill out these lighting effects as well.
Overall, the lighting effects for this show were very atmospheric.
Exposure & Metering:
Exposure for this set was all over the place, with the ISO ranging everywhere from ISO 2000 to 6400. I shot at f/2.8 for the entire set and shutter speeds ranged from 1/80 to 1/500. Overall, I tried to keep the shutter speeds high to compensate for the activity of Way on stage.
Lenses & Exposure:
I shot with the Nikon 24-70mm f/2.8 and Nikon 70-200mm f/2.8 on the Nikon D3. The latter lens saw very little use and I heavily utilized the midrange zoom for this one.
I was expecting to shoot with the Nikon 14-24mm f/2.8 for some dramatic ultra-wide shots, but the band's fairly distant position on stage never created the right situation for the lens.
End Notes:
I'd like to give a big shout out and thanks to some fine people who kindly provided some great info in preparation for this gig: Emily, Aloysius, Clara, Charline, and Heather.
I'm looking forward to seeing My Chemical Romance rest up and come back at full force after they break from touring to record their next album. You guys bring the rock and the big, bright lights, I'll bring my camera.
My Camera DSLR and Lenses for Concert Photography
Nikon D850:
I use two Nikon D850 for my live music photography. A true do-it-all DSLR with amazing AF, fast response, and no shortage of resolution.
Nikon 24-70mm f/2.8:
For most gigs, the 24-70mm is my go-to lens. Exceptional image quality at wide apertures and super-functional range.
Nikon 70-200mm f/2.8 VR:
A perfect pair to the Nikon 24-70mm f/2.8, I can basically shoot any job with the midrange and this lens. Superb image quality.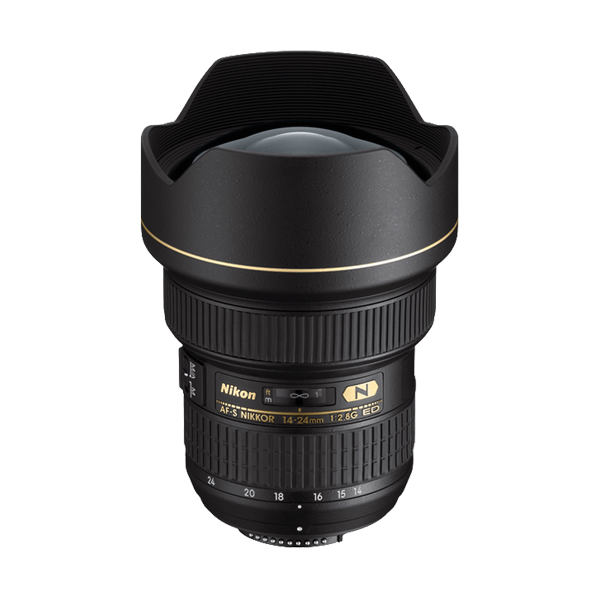 Nikon 14-24mm f/2.8:
Ultra-wide perspective, ridiculously sharp even wide open at f/2.8. I love using this lens up-close and personal, where it excels.
Help Support www.ishootshows.com
If this article or any other content on www.ishootshows.com was helpful to you, please consider supporting this site and grabbing your next photo gear purchase through one of my affiliate links: