So, you want to shoot concerts?

Given the shooting constraints of concert photography, from song limits to bad lighting, the last thing you want to do is show up for a gig lenses that aren't cut out for the job.
If you're just starting out with shooting live music, here are a few suggestions for lenses that are up to the low-light challenge of concert photography, including f/2.8 zooms and fast primes.
If you're a Nikon shooter, you can see my guide specifically for Nikon shooters here:
For the Canon shooters out there, check out my recommendations for Canon Lenses for live music photography:
Lens Upgrade Path:
Maybe you've shot a few shows with the kit lens or perhaps you've stuck it out for years and you're looking for some new glass. Assuming your current lenses don't cut it, here are a few standard lenses available in the most popular mounts, including Nikon and Canon, that are up to the task.
The ubiquitous 50mm lens gets around for a few reasons, not the least of which is its fast aperture. At f/1.4, this lens is a full two-stops faster than the zooms in this list, an attribute that which can help open up even the darkest venues. The Nikon 50mm f/1.4G and Canon 50mm f/1.4 are staple lenses.
I recommend the f/1.4 lenses over the slower and less expensive f/1.8 lenses for a few reasons, including better wide open performance, more light gathering ability, and better build quality. Even with all these improvements, these 50mm lenses are still the cheapest f/1.4 glass you'll buy.
If your shooting conditions require something a little wider, the Sigma 30mm f/1.4 is also a great low-light solution.
17-55 mm f/2.8 – The Midrange Zoom:
The 17-55mm range is my favorite zoom range for cropped-sensor (APS) cameras, as it gives you everything from wide-angle to short telephoto in a convenient package. If you're photographing bands up close at the front of the stage, this lens may just have all the range you need.
Tamron makes a great little 17-50mm f/2.8 lens that gives the OEM lenses from Nikon 17-55mm and Canon 17-55mm a run for their money. Sigma makes a well-regarded 18-50mm f/2.8 lens, and Tokina produces a very solid 16-50mm f/2.8 lens as well, which offers the widest end of the bunch.
24-70mm f/2.8 – The Other Midrange Zoom:
For APS and full-frame sensors alike, the old standby range of the ~24-70mm f/2.8 is a solid bet. Like the newer APS-only 17-55mm range, this lens was designed as the go-to midrange zoom for film. On APS-sensors, this range provides a little more reach than the shorter 17-55mm range, at the expense of the wide-angle.
All the major players produce a lens in this speed and range, with the Sigma 24-70mm f/2.8 and the Tamron 28-75mm f/2.8 being popular third-party options. However, if you have the money, I always recommend going for the standard Nikon 24-70mm f/2.8 or Canon 24-70mm f/2.8 – you can't go wrong.
One of the more expensive options in this short list, the 70-200mm range is a staple for telephoto shooting. I find this range particularly useful for large or high stages, picking up the drummer, and for tight shots of individual performers.
The first choices in this range are the Nikon 70-200mm f/2.8 and Canon 70-200mm f/2.8 lenses. Canon also offers a slower, more compact 70-200mm f/4 lens as well.
All the major OEM brands produce lenses in this range, and third-party manufacturers like Tamron, Tokina, and Sigma also produce more cost-effective versions of this popular range, with the Sigma 70-200mm f/2.8 being particularly popular as a third-party choice.
For those who want a little more reach without the size and weight of a telephoto zoom, an 85mm f/1.8 or f/1.4 can help fill out a kit to act as a short telephoto.
End Notes:
Whatever the focal length and application, I would highly recommend going with the fastest lenses you can afford for concert photography. With such demanding conditions as live music, f/2.8 zooms are often a necessity, if not f/1.8 or f/1.4 primes.
Also, overall, I highly advocate buying lenses from the original manufacturer of the system you use, be it Nikon, Canon, Pentax, or Sony. While these lenses are often more expensive than third-party options, you only have to buy it once. Also, these lenses often provide the most reliable performance cameras of the same manufacturer.
That said, there's also great glass to be found from Sigma, Tamron, and Tokina. Often, it's a case of diminishing returns with brand-name products, so you should weigh your needs and preferences against cost.
For more information on the above lenses and more, please visit the Gear Guide, where I discuss some more detailed applications for these events.
If you're a Nikon shooter, you can see my guide specifically for Nikon shooters here:
For the Canon shooters out there, check out my recommendations for Canon Lenses for live music photography:
What do you say?
What was your upgrade path once you ditched the kit lens? What's your most-used lens? Please feel to have your say in the comments section!
My Camera DSLR and Lenses for Concert Photography
Nikon D750:
I use two Nikon D750 for my live music photography. Amazing high ISO performance in a compact body with tons of pro features.
Nikon 24-70mm f/2.8:
For most gigs, the 24-70mm is my go-to lens. Exceptional image quality at wide apertures and super-functional range.
Nikon 70-200mm f/2.8 VR:
A perfect pair to the Nikon 24-70mm f/2.8, I can basically shoot any job with the midrange and this lens. Superb image quality.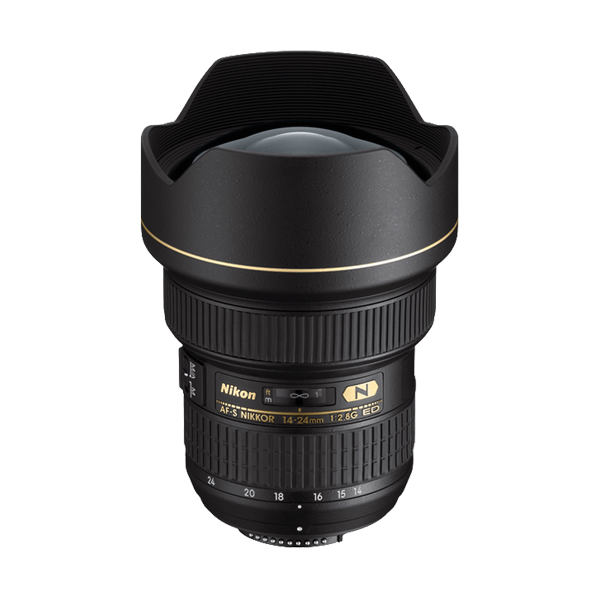 Nikon 14-24mm f/2.8:
Ultra-wide perspective, ridiculously sharp even wide open at f/2.8. I love using this lens up-close and personal, where it excels.
Help Support www.ishootshows.com
If this article or any other content on www.ishootshows.com was helpful to you, please consider supporting this site and grabbing your next photo gear purchase through one of my affiliate links: