While most DSLRs incorporate a UV/IR filter layered over the sensor, eliminating the need for a UV filter over the lens, many photographers are still worried about one of the added benefits of a lens filter: protection.
To this point, here's a quick look at the pros and cons of using clear filters as lens protection.
Support These Articles
If you find this article helpful, please consider buying your next photo gear purchase from B&H,Amazon.com, or any of my other my affiliate links.
To learn how you can help support www.ishootshows.com, visit the page Buy Yourself Something Nice. Now with that out of the way, let's get on with it.
UV & Clear Filters
Nearly all digital sensors used in DSLRs incorporate UV and IR filters in their designs. As a result, what this means in terms of lens filters is that UV filters are largely unnecessary, with the possible exception of shooting at higher altitudes when UV levels are higher.
With no emphasis on cutting UV, protection is now the predominant reason why most people choose to use clear/neutral-color filters.
The reason for using filters as protection is natural – after all, when you spend hundreds or thousands of dollars on a lens, an easy reaction is to want to keep that optic in as good a condition as possible. To this end, filters – whether a UV filter or a clear filter – form a barrier against grit, grime, and fingerprints.
A Case Against Filters
I basically only have one main argument against the use of filters: the Nikon 14-24mm f/2.8. This ultra-wide zoom features a fairly extreme front element and cannot accept traditional screw-in filters. Aside from the fact that the lens doesn't have front threads, the front element itself bulges out beyond what any filter could contain. To compound matters, the 14-24mm f/2.8 is a lens that is best used up-close and personal.
Needless to say, the front element has been splattered with sweat, spit, and I'm afraid to guess what else in my time photographing musicians from mere feet away. And despite all its seeming abuse, the front element still cleans up to look immaculate, with no marring of the coatings. The take-away? Lens elements and their coatings are tough.
Even with the exposed and sweat-magnet front element of the 14-24mm f/2.8, I never hesitate to go in for the kill. After all, the biggest benefit of filters to me – freedom to go after the shot – is all mental. It doesn't take a filter to stop worrying, just will.
Disadvantages of Using Protective Filters
Increases Flare
Increases Ghosting
Even with the best optical coatings, the perfectly smooth glass of a filter can be detrimentally reflective. Combined with light reflecting from the front element of the lens and other surfaces in the optics chain, and you're potentially putting a big mirror in front of your sensor, which will increase instances of flare and ghosting.
For more information on these effects, see my earlier article on Understanding Lens Flare  & Ghosting.
Advantages of Using Protective Filters
Quick field cleaning
Increases photographer confidence
The best quality filters are essentially as easy to clean as the front element of a lens, but more importantly, filters may allow photographers to clean more quickly and aggressively without worry. This attitude is especially beneficial in the field when quick cleans are necessary and you have nothing more than a t-shirt to clear your filter of grime.
In addition, arguably the best benefit of using filters is that they can free the photographer from worrying about environmental conditions. A prime example for this kind of shooting is concert photography, where one may have water, spit, sweat, and more flying off the stage and toward your expensive camera gear. Instead of worrying about one's gear, filters can allow photographers to concentrate on making the shot.
For all the worry about flare and ghosting, a killer moment captured full of these artifacts will always trump an image not made at all. If filters give you the peace of mind to execute, your shooting will be better for it, flare and all.
Recommended Filters
I often asked what filters – if any – I recommend. As a Nikon shooter, I recommend Nikon Neutral Color filters. I've used the Nikon L37C filters on my Nikon 24-70mm f/2.8 and Nikon 70-200mm f/2.8, but recommend Nikon NC filters for DSLRs.
Nikon's Neutral Color filters come in tough brass mounts, are relatively thin, and unlike some Hoya & B+W filters I've used, feature lens coatings that are very easy to clean. There's a reason these filters have 140+ 5-star reviews on B&H Photo Video's website. They also happen to be one of the less expensive clear filters compared to the Hoya Pro 1 line and those from B+W.
Nikon NC filters come in a range of different sizes, including the pro-standard 77mm that will fit lenses like the Nikon 24-70mm f/2.8 and Nikon 70-200mm f/2.8 VR II.
UV Filter vs No Filter Comparison
The above shows a pretty typical scene – a backlit afternoon sun, with the example on the left showing the use of a Nikon L37c filter and the example at right with no filter. Overall, the scenes are very similar – can you spot the differences?
Again, to learn more about these effect, see my article on Understanding Flare & Ghosting.
Summary
If you ask what am I doing? I've shot with filters for years, and the sense of freedom they've granted has allowed me to go all-in and capture some of my favorite images. But at the moment, I'm going al fresco, especially for shows I shoot where I know there's going to be intense backlighting and a high chance of ghosting.
The use of filters just comes down to preference. At worst, a UV or clear filter is going to degrade image quality, primarily in terms of flare and ghosting. At best they can allow the photographer to simply concentrate on making killer images.
Buy Yourself Something Nice
My Camera DSLR and Lenses for Concert Photography
Nikon Z 7:
I use two Nikon Z 7 for my live music photography. A true do-it-all mirrorless camera with amazing AF, great speed and fantastic resolution.
Nikon 24-70mm f/2.8S:
The 24-70mm is my go-to lens. The range is ideal for stage front photography and the image quality is superb.
Nikon 70-200mm f/2.8 VR:
A perfect pair to the Nikon 24-70mm f/2.8, I can basically shoot any job with the midrange and this lens. Superb image quality.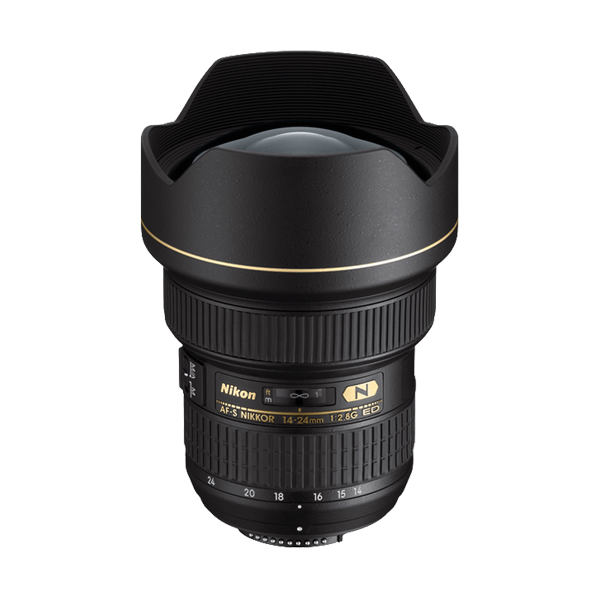 Nikon 14-24mm f/2.8:
Ultra-wide perspective, ridiculously sharp even wide open at f/2.8. I love using this lens up-close and personal, where it excels.
Help Support www.ishootshows.com
If this article or any other content on www.ishootshows.com was helpful to you, please consider supporting this site and grabbing your next photo gear purchase through one of my affiliate links: