The Fuji 18mm f/2 is the most compact of the new X-Mount lenses, though perhaps just a little shy of the pancake designation. At 18mm on the X-Mount's APS-C sensor, this lens provides basically a the same field of view as a 28mm on full-frame.
For most street or photojournalism-style shooters, this is going to be your lens of choice. In this review of the Fuji 18mm f/2, we take a look at an analysis of the image quality, optical character and  sample images.
X-Mount Lens Overview
For an overview of the X-Mount system that deals with the overall handling and general performance of Fuji's XF lenses, see my comprehensive X-Mount lens review. And if you haven't already, please see my in-depth review of the Fuji X-Pro1 Mirrorless Camera.
The Wide Angle – In The Box
Design
Image Quality
Strengths
The obvious highlight of the 18mm is that it's extremely compact. While it's not as compact as some pancake lenses, the wide angle field of view and the relatively fast f/2 aperture make this lens ideal for fast, light and inconspicuous shooting.
Thanks to the very compact design and small lens elements, the 18mm focuses the quickest out of the group. I dare say that it might even be a little snappy. That, and it's tiny. In addition, the relatively fast f/2 aperture and close-focusing distance mean that it's possible to get some relatively awesome shallow depth of field for a wide-angle lens, allowing for some creative opportunities.
Weaknesses
Now the bad news: The 18mm is the weakest out of the three new XF lenses. While the Fuji 18mm f/2 is sharp in the center of the frame, this lens never quite sharpens up for edge-to-edge consistency. Even in the center of the frame, I found that contrast was slightly less than what I'd want – some images can appear a little "hazy" at times when compared to the very crisp and even drawing of the Fuji 35mm f/1.4 or Fuji 60mm f/2.4. The corners can appear smudged – again, especially compared to the almost clinical sharpness of the Fuji 35mm f/1.4 and Fuji 60mm f/2.4 macro.
For these reasons, the 18mm doesn't quite nail it as tool for more critical landscape. While some might scoff at the thought of using a mirrorless camera for serious work that would require edge-to-edge sharpness, I'm thinking here of adventure photographers who might want the smallest, lightest kit possible without sacrificing image quality.
Character
In terms of character, the 18mm generally has a harder style of rendering that is similar to the Fuji 35mm f/1.4 and less smooth than the 60mm f/2.4. This touch of harshness in the defocused elements can add some interest when using the lens with close-focus and shallow depth of field, and certainly shouldn't be deemed negative. If anything, I found that the "edgier" defocused elements gave images an even more 3-D feeling, much like I found with the Nikon 24mm f/1.4.
Sample Images
Rating
Image Quality: 4/5
Rendering Character: 4/5
Focusing Speed: 4/5
Conclusion
With a very compact design and relatively fast aperture, one has to wonder what concessions in the optical design Fuji may have made to achieve these design points. One almost has to ask if a slower f/2.8 lens – or a slightly larger lens body – could have allowed Fuji's optical engineers to produce a more consistently performing lens.
The reason I give this lens a 4/5? It never really achieves satisfactory sharpness in the corners at any aperture stopped down. While this is perhaps a non-issue for street and some photojournalistic photography, I find the fact that shooting at f/8-11 doesn't produce sharp corners at infinity disappointing. If I were cruel, I'd go even lower and say it's a 3/5.
That said, for all this criticism, the Fuji 18mm f/2 is sharp enough in the center of the frame to produce plenty of color moiré, as I showed in my full review of the Fuji X-Pro1. So that's a pretty good problem to have in terms of lens sharpness. Moreover, for actual photography, the kind of stupid clinical sharpness that I would like to see with the Fuji 18mm f/2 doesn't really matter if you take care of the other important aspects of photography. You know, like lighting, composition, and a great subject.
If you are mainly concerned about the center square of the lens, arguably the most important part of the frame, then I'd give this lens a 4.5/5. It gets a slight ding because even in the center of the frame this lens features less contrast than the Fuji 35mm f/1.4 and Fuji 60mm f/2.4 macro lenses.
With the relatively fast f/2 aperture and the great high ISO performance of the Fuji X-Pro1, this is a wide angle lens that eats up light. For anyone shooting any kind of photojournalism work or street photography, the speed, compact size and fast focusing of this lens are the key factors, and this is where the Fuji 18mm f/2 excels.
While the Fuji 18mm f/2 fails to deliver the same high performance of the other Fuji XF lenses, it's moderately fast aperture  and compact design make it a winner for many looking for an inconspicuous lens for street photography and similar pursuits.
My Camera DSLR and Lenses for Concert Photography
Nikon Z 7:
I use two Nikon Z 7 for my live music photography. A true do-it-all mirrorless camera with amazing AF, great speed and fantastic resolution.
Nikon 24-70mm f/2.8S:
The 24-70mm is my go-to lens. The range is ideal for stage front photography and the image quality is superb.
Nikon 70-200mm f/2.8 VR:
A perfect pair to the Nikon 24-70mm f/2.8, I can basically shoot any job with the midrange and this lens. Superb image quality.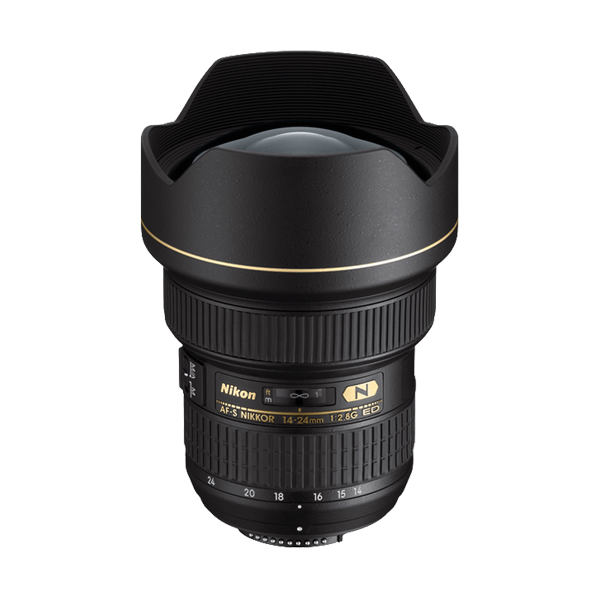 Nikon 14-24mm f/2.8:
Ultra-wide perspective, ridiculously sharp even wide open at f/2.8. I love using this lens up-close and personal, where it excels.
Help Support www.ishootshows.com
If this article or any other content on www.ishootshows.com was helpful to you, please consider supporting this site and grabbing your next photo gear purchase through one of my affiliate links: