On the Fuji X-Pro1, the Fujinon 35mm f/1.4 acts as the equivalent of the fast 50mm f/1.4, the standard prime for so many photographers. The 50mm focal length is regarded as a versatile lens for so many reasons, including a close approximation to the human eye and the ability of the lens to assume both wide-angle and telephoto qualities, depending on its use.
At f/1.4, this 35mm is the fastest of all the Fuji XF lenses, which make it an amazing thing to pair with the already excellent low light and high ISO capabilities of the Fuji X-Pro1. In this review of the Fuji 60mm f/2.4 macro, we take a look at an analysis of the image quality, optical character and plenty of sample images.
Support These Reviews
The Fuji 35mm f/1.4 reviewed here was kindly provided to me from B&H Photo Video in New York City.
If you find this review helpful, please consider buying your next photo gear purchase from B&H orAmazon.com or any of my other affiliates. It doesn't cost you a cent more, and by clicking through to them from www.ishootshows.com, you help me bring you content just like this review.
Now with that out of the way, let's get to the review.
X-Mount Lens Overview
For an overview of the X-Mount system that deals with the overall handling and general performance of Fuji's XF lenses, see my comprehensive X-Mount lens review. And if you haven't already, please see my in-depth review of the Fuji X-Pro1 Mirrorless Camera.
The Fast "50" – In The Box
Design
Image Quality
Strengths
Flat out, if you own one Fuji X-Mount lens, make it the Fuji 35mm f/1.4. Yes, it's that good. Not just in comparison to the other X-Mount lenses available, but in terms of absolute empirical lens quality.
This lens is sharp. Sharp wide open and sharp stopped down. Depth of field aside, it's sharp across the entire frame at f/4 – maybe even before that. And I don't mean sharp in the center and kind of sharp elsewhere, but pixel-level sharpness even at the very corners of the frame.
Even at wide apertures, contrast is very good and chromatic aberrations are well controlled. The Fuji 35mm f/1.4 is the kind of lens you can shoot at any aperture and know that it will deliver.
One bonus feature of this lens is the relatively short minimum focusing distance, which allows for 1/5 magnification. Here, we're not quite in true macro territory, but it is close enough to do some very nice close-up work. In fact, the lens offers almost the same look as the legendary Nikon 55mm f/1.2 CRT Nikkor, which also allows for 1/5 magnification. If you're a bokeh nut, then shooting at f/1.4 with close-up work is a wild thing indeed.
Weaknesses
Honestly, there isn't a whole lot that Fuji got wrong with this lens. AF speed is very slightly slower than the Fuji 18mm f/2, but it's hard to really blame the lens for the patience required when using a contrast detection AF system.
Character
In terms of character, the lens isn't quite as smooth as the Fuji 60mm f/2.4, but this isn't necessarily a bad thing. Out of focus elements do have a little "bite" wide open at f/1.4, but smooth out as the lens is stopped down.
Sample Images
Rating
Image Quality: 5/5
Rendering Character: 5/5
Focusing Speed: 4/5
Conclusion
If you're going to buy a single lens or starting lens for the Fuji X-Pro1, make it the Fujinon 35mm f/1.4. Yes, this lens is just that good. Between it's low light abilities, superlative optical performance, close-focusing, and small size, it's literally a do-it-all kind of lens if the focal length fits your shooting.
Aside from its slightly slower AF speed compared to the Fuji 18mm f/2, the Fuji 35mm f/1.4 is almost a flawless lens, and even then the AF speed is more of a function of the contrast detection AF system employed by the Fuji X-Pro1.
If you're a Fuji X-Pro1 owner and you don't own this lens, you haven't seen what this camera is capable of. Don't think, just get it.
My Camera DSLR and Lenses for Concert Photography
Nikon D850:
I use two Nikon D850 for my live music photography. A true do-it-all DSLR with amazing AF, fast response, and no shortage of resolution.
Nikon 24-70mm f/2.8:
For most gigs, the 24-70mm is my go-to lens. Exceptional image quality at wide apertures and super-functional range.
Nikon 70-200mm f/2.8 VR:
A perfect pair to the Nikon 24-70mm f/2.8, I can basically shoot any job with the midrange and this lens. Superb image quality.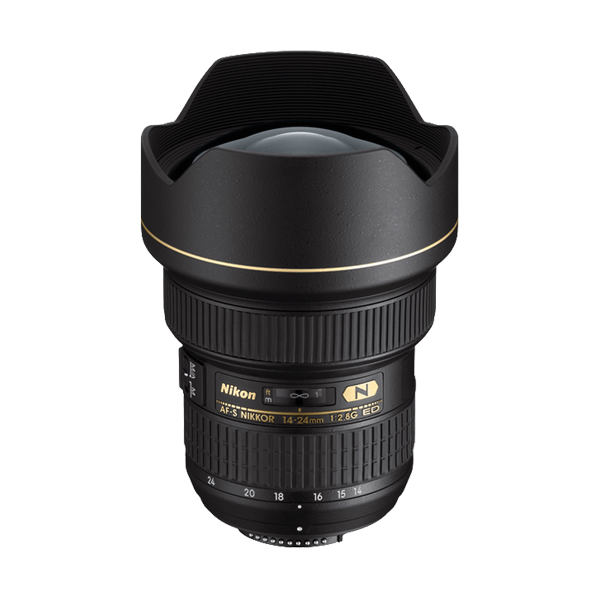 Nikon 14-24mm f/2.8:
Ultra-wide perspective, ridiculously sharp even wide open at f/2.8. I love using this lens up-close and personal, where it excels.
Help Support www.ishootshows.com
If this article or any other content on www.ishootshows.com was helpful to you, please consider supporting this site and grabbing your next photo gear purchase through one of my affiliate links: