The midrange zoom is the go-to lens of countless photographers' kits. Offering a wide-angle to short telephoto range in a single package is the key to this design's success, especially when paired with a constant f/2.8 aperture that professionals require.
Tamron's newest entry into the midrange zoom market packs nearly identical specs to Nikon and Canon's f/2.8 midrange zooms, with a few important differences. For one, it's the first full-frame DSLR lens of this kind to feature built-in vibration reduction, further expanding the utility of this lens with the promise of stabilization for slower shutter speeds. Secondly, it's priced over a third less than the Nikon and Canon equivalents.
How does the Tamron 24-70mm f/2.8 VC stack up in terms of performance? Hit the jump for the comprehensive answer.
Support These Reviews
The Tamron 24-70mm f/2.8 VC reviewed here was kindly provided to me from B&H Photo Video in New York City.
If you find this review helpful, please consider buying your next photo gear purchase from B&H or Amazon.com or any of my other affiliates. It doesn't cost you a cent more, and by clicking through to them from www.ishootshows.com, you help me bring you content just like this review.
Now with that out of the way, let's get to the review.
The main reason why this new Tamron 24-70mm f/2.8 VC lens is so interesting is that it promises what Nikon and Canon have failed to provide to their users, which is a fast 24-70mm f/2.8 zoom with built-in image stabilization. While it was long rumored that the new Canon 24-70mm f/2.8 mkII would deliver this feature to the masses, when the lens was finally released, it was without IS.
Most interestingly, Tamron has stepped up to the plate to build on the very good reputation of the Tamron 28-75mm f/2.8, adjusting the focal range back a few clicks and dropping in their Vibration Control tech. Add in weather sealing, a silent ultrasonic motor, and a brand new optical design, and you have a pro-grade contender for the ideal  midrange zoom. Oh, and it's 1/3 less than the OEM version.
Not bad for a third-party lens manufacturer, right?

Key Features
The key features to the Tamron 24-70mm f/2.8 are basically all in its full name: 24-70mm f/2.8 DI VC USD:
24-70mm:
Yes, this is actually a key feature, because it's the same incredibly useful range as the kingly Nikon 24-70mm f/2.8. Tamron's previous design in this similar range, the Tamron 28-70mm f/2.8, is optically an excellent lens, but lacks the same definitive 24mm end of its Nikon and Canon counterparts.
Matching the same range as the Nikon and Canon models, the Tamron 24-70mm f/2.8 DI VC promises the same great range at a more wallet-friendly price.
f/2.8:
Again, as fast midrange zoom, the f/2.8 maximum aperture is a standard which becomes even more interesting with this next feature. f/2.8 is big dog territory, and while manufacturers like Sigma and Tamron have been making high quality f/2.8 zooms for years, this new Tamron lens with all its features is easily one of the most serious entries that any third party manufacturer has made.
VC (Vibration Control):
"A rose by any other name would smell as sweet." Vibration Control is Tamron's designation for the technology that Nikon calls Vibration Reduction (VR) and which Canon calls Image Stabilization (IS). As its name implies, Vibration Control is a system of gyroscopic stabilization that minimizes vibrations that may effect image quality at lower shutter speeds when shooting hand held. This kind of feature excels in low light and allows photographers to shoot at lower than normal shutter speeds. So, instead of shooting at say, 1/160 second shutter speed to avoid image blurring, VC may enable you to shoot at 1/60 or even 1/30 without the same severe effects of blur.
What's intriguing about the feature here is that it makes this Tamron the only midrange zoom with this feature, Nikon's 24-70mm f/2.8 and the Canon 24-70mm f/2.8 don't feature stabilization, even in the newest models.
While some might consider vibration reduction in a midrange zoom less important than its incorporation in a super-telephoto, for example, its incorporation here in the Tamron 24-70mm f/2.8 VC is very welcome news to many photographers.
Ultrasonic Silent Drive:
Tamron's Ultrasonic Silent Drive motor for the Tamron 24-70mm f/2.8 VC is basically the same technology as Nikon's AF-S /SWM and Canon's USM: A very quiet and fast motor system built into the lens.
One benefit of this focusing motor is the ability to offer full-time manual focus override without having to disengage the lens motor, as was necessary in previous AF systems where the AF was driven by the camera body.
For Nikon users with DSLRs that don't feature a built-in AF motor (many of Nikon's non-pro DSLRs have had this legacy feature stripped), this is a great (and necessary) option for full autofocus performance.
Optical Design
The optical design of the Tamron 24-70mm f/2.8 VC features a nice collection of "unusual" glass, including all kinds of impressive sounding types including extra refractive index, low dispersion and aspherical elements.
This
What's In The Box
First off, when you open the box of the Tamron 24-70mm f/2.8 VC, it looks a little unusual, or at least it did to me. What lies within is a somewhat skeletonized cardboard shell that protects the lens, rather than a styrofoam or plastic container (though there is a little styrofoam protecting the lens as well). Kudos to Tamron for the eco-friendly packaging. Even if it looks weird.
What you get with the Tamron 24-70mm f/2.8 VC is a big heavy lens, lens cap, lens hood, and a small packet of literature (warranty, manual, etc). What you don't get is a soft lens case that you will never use or any other fluff. I'm OK with this.
Design
 


Zooming – Action
The zooming action of the Tamron 24-70mm f/2.8 VC feels a slightly rougher out of the box than my Nikon 24-70mm f/2.8, but it's not really bad. Due to the large glass elements and relatively heavy build of the lens, there's a lot of material being pushed around when you zoom, so this friction is actually a little reassuring, and certainly better than the alternative.
Zooming – Barrel Extension
The Tamron 24-70mm f/2.8 VC  does feature barrel extension as the lens is zoomed, starting at its smallest length at 24mm  and moving to its greatest extension at 70mm. It's notable that this is nearly the opposite of the Nikon 24-70mm's barrel extension behavior, which is least at around 50mm (and very minimal at 70mm) and greatest at 24mm.
The zooming action moves in the exact same direction as the Nikon 24-70mm f/2.8, but still feels a little strange at first. While I didn't realize it at first, the strange sensation of zooming is due to the fact that the barrel extension is reversed from the Nikon. So coming from the Nikon, it's a little disconcerting to expect the lens to extend and feel the barrel retract, and vice versa.
Controls
The Tamron 24-70mm f/2.8 VC features pretty much your standard controls for a lens of this type. There's the ubiquitous AF/M switch, of course. There's a switch to toggle the VC on and off as well. No surprises.
One small design aspect of note is that the focusing ring is closest to the lens mount and body, while the zoom ring is at the farther end of the lens. This arrangement is never my preference, though the Tamron isn't necessarily harder to operate. If the Tamron 24-70mm f/2.8 VC were your primary midrange zoom, I think this placement would be a non-issue since you'd become accustomed to the controls.
Also, I will say that for some close focusing work when manual focus may be a preference, it is actually nice to have the focusing ring closer to the body.
In addition, there's a zoom lock, which will lock the lens at 24mm and prevent extension. I'm not sure how necessary this switch is, since the zooming motion is fairly stiff out of the box. It doesn't feel like the lens would become so sloppy that it would really need to be locked up, but at the same time, it's not hurting anything, either.
Moisture resistance
One feature worth noting is that the Tamron 24-70mm f/2.8 VC features moisture sealing in the design, seen most notably in a rubber gasket in the lens mount, just like pro Nikon lenses. Now I haven't seen diagrams describing the other sealing that Tamron has done in the lens. According to their own listing for the stie, Tamron describes this sealing as the following:
Tamron's new moisture-resistant construction helps prevent water from penetrating the lens, making it even more ideal for travel and shooting outdoors.
Size Comparison
Compared to the Nikon 24-70mm f/2.8, the Tamron is a fatter, shorter lens. It actually reminded me a bit of the Nikon 24-120mm f/4 VR.
Personally, I prefer the size of the Nikon, mainly because the thinner barrel is more comfortable to hold and use. In addition, specifically comparing the Nikon to the Tamron, I prefer the Nikon's placement of the AF controls closes to the camera, as the closer zoom ring is much easier to manipulate.
   
Lens Hood
The lens hood for the Tamron 24-70mm f/2.8 VC is your standard petal hood. Unlike the Nikon 24-70mm f/2.8's lens hood, the Tamron's hood attaches to the end of the lens, rather than the body of the lens as in the case of the Nikon.
So, what this means is that the lens hood is much more shallow, since it's moving with the lens. The benefit is a much smaller hood, and thus a lighter hood. On the downside, it doesn't feel as though it offers as much overall physical protection as the Nikon varient when it comes to knocks and bumps.


On-Camera
Despite being a "lowly" third party lens, the Tamron 24-70mm f/2.8 VC is actually pretty massive. It's much thicker in diameter than the Nikon 24-70mm f/2.8, though it is shorter as well.
On-camera, the lens balances well, though I prefer the more tapered, thinner body of the Nikon 24-70mm f/2.8. However, in terms of handling, the lens handles quite well and feels nicely balanced.
 
Optical Performance – Sharpness
OK, everything else up to this point has pretty much been fluff. This is the real meat of the review. The question we all want to know is, how does the Tamron 24-70mm f/2.8 VC hold up in terms of optical performance.
I am happy to report that the answer is, "very well."
When I tested the older Tamron 28-70mm f/2.8, I was impressed by its sharpness and contrast, even wide open. The new Tamron 24-70mm f/2.8 VC seems to perform just as well.
Shoot Wide Open
Wide open at any focal length, sharpness in the center of the frame is very high. For me, this is the real test of a f/2.8 zoom lens. After all, being able to shoot at f/2.8 is the whole point of buying a fast zoom like this. Shoot wide open or go home.
On the Nikon D3 and D700, the camera delivers sharp performance at all AF points, even the outer horizontal and vertical points. This is important. Why? Because rarely are the most important things happening in the center of the frame, especially when shooting events. Or if they are in the dead center, chances are the composition is a little dead.
So the fact that the Tamron 24-70mm f/2.8 VC delivers sharp results wide open at the extremes of the viewfinder and AF point spread is basically awesome news. This is the kind of performance I expect from my go-to lenses like the Nikon 24-70mm f/2.8, and in my experience the Tamron delivered just as well.
Stopped Down
Stopped down, I found that the Tamron 24-70mm f/2.8 was very good across the entire frame. I did have some corner softness in my sample that never resolved, but it was only in the extreme lower left of the frame. The center "square" of the full frame delivered excellent performance.
Optical Performance – Distortion
One thing that I'ved noticed with this lens is slightly more distortion than I'm used to with my Nikon 24-70mm f/2.8. It's not really noticeable for most kinds of casual shooting, but any image shot at the wide end of this lens will show some barrel distortion with parallel lines.
Vibration Control – Does it Work?
Yeah, VC works. While it's a different beast than most uses I've used this feature, Vibration Control does work and allow for shooting at lower than normal shutter speeds. In my gut, I might rate Tamron's implementation of VC a notch below that of the best Nikon VR lenses, but it does work.
Just like any instance of vibration reduction, it's not a 100%, foolproof technology – it works best if you're shooting several frames to give you the best odds of capturing an image the most free of vibration.
AF Performance
Overall, AF performance of the Tamron 24-70mm f/2.8 VC is good, but it is a slower focusing lens than the Nikon 24-70mm f/2.8. However, it's no so slow that it was ever a deal breaker, but does feel noticeably more slow than the Nikon lens. Maybe 25% slower to achieve AF lock.
Still, for event photography and live music photography, I found the AF performance adequate – even for rockers like Slash.
One not about focus in general is that the Tamron 24-70mm f/2.8 VC is not a parfocal lens, it's varifocal. So focusing on a subject at 70mm and 24mm will result in two different focus settings, albiet very similar. So the old trick of focusing at telephoto and then zooming out to wide angle doesn't work with this lens, if you're in that habit.
Sample Images
Conclusion
So, is the Tamron 24-70mm f/2.8 VC a viable contender against the Nikon 24-70mm f/2.8 and Canon 24-70mm f/2.8? My answer is yes. Optically, I found the lens pretty excellent. While there are some areas such as AF speed where the Tamron falls behind, the optics of this lens are solid enough to overlook this slight issue. PLus, there's the added bonus of Tamron's VC technology, which neither the Nikon or Canon midrange zooms feature at this time.
At a solid $500 less than the Nikon version and a cool $1,000 less than the new Canon 24-70mm f/2.8 II, the $1,299 Tamron 24-70mm f/2.8 definitely bears consideration.
While there are quibbles I have with the lens like the placement of the zoom and focus rings, the slightly less-than-Nikon build quality, and the AF performance compared to the Nikon 24-70mm f/2.8, I will leave you with this thought:
When it came to test this lens, I told myself that I'd shoot with it as my primary lens until it disappointed me. That time never came.
My Camera DSLR and Lenses for Concert Photography
Nikon D750:
I use two Nikon D750 for my live music photography. Amazing high ISO performance in a compact body with tons of pro features.
Nikon 24-70mm f/2.8:
For most gigs, the 24-70mm is my go-to lens. Exceptional image quality at wide apertures and super-functional range.
Nikon 70-200mm f/2.8 VR:
A perfect pair to the Nikon 24-70mm f/2.8, I can basically shoot any job with the midrange and this lens. Superb image quality.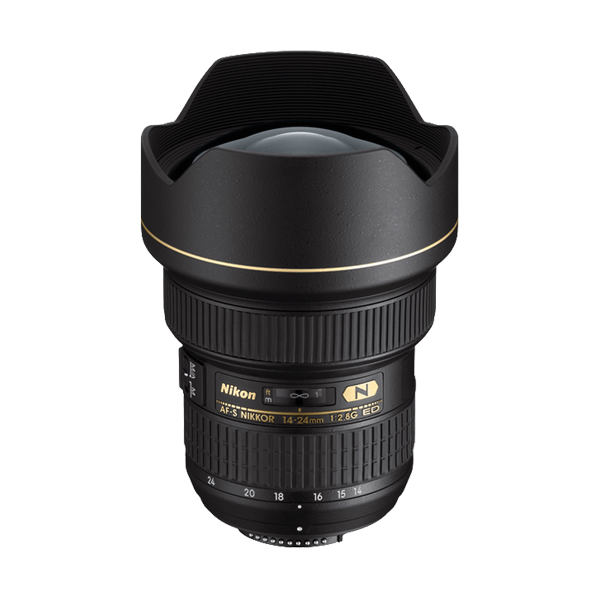 Nikon 14-24mm f/2.8:
Ultra-wide perspective, ridiculously sharp even wide open at f/2.8. I love using this lens up-close and personal, where it excels.
Help Support www.ishootshows.com
If this article or any other content on www.ishootshows.com was helpful to you, please consider supporting this site and grabbing your next photo gear purchase through one of my affiliate links: