So, you want to shot live music. Maybe you've brought your Canon DSLSR to a show and got a taste of the thrill of shooting live music and realize your current lenses aren't quite up to the challenge — or maybe you just want to expand your kit and add some new lenses to your concert photography bag.
Fast is the name of the game with event photography in low light, and shooting live music photography is no exception. Here's a comprehensive list of Canon lenses that I recommend for shooting concert photography, from primes to zooms, full-frame to APS, including fast primes for low light photography and zoom lenses for live music.
Prime Lenses
I'm going to go out on a limb and recommend all f/1.8 and f/2 lenses in this guide to Canon lenses for concert photography. For one, there is a massive premium for the f/1.4 versions of all of these lenses. With high ISO performance being as good as it is on all Canon DSLRs, I feel very confident recommending these more budget-friendly lenses. While that added cost does have advantages in the f/1.4 glass, and I would not dissuade you from spending the extra cash if you have it, the f/1.8 versions of these primes are exceptionally good performers and I have no hesitations recommending them.
Canon  EF 28mm f/1.8 USM
The Canon 28mm f/1.8 is a great perspective on full-frame cameras and offers close to a 35mm focal length on APS cameras — useful either way you slice it. On full-frame cameras, 28mm is excellent for wider shots showing multiple band members or when you're shooting in small venues very close to the performers.
The Canon 35mm f/2 IS USM is an interesting twist on a classic lens. The 35mm focal length at an f/2 aperture isn't something tremendously exciting, but the addition of IS (image stabilization) in this fast prime makes this lens even more versatile. Overall, the 35mm focal length is a classic and works well on Canon's full-frame and APS cameras alike, offering a field-of-view of a 50mm lens on the latter. At 35mm, you get a balance between a wider field of view with the ability to start to isolate subjects a little more. If you have one prime in your bag, this is an exceptionally versatile focal length and a great place to start, especially if you shoot smaller, more intimate gigs.
Canon's 50mm f/1.8 is just about as affordable as you will find in terms of glass. Frankly, there is no excuse not to have this little gem in your bag as soon as you can drop the $125 sticker price. This is a super economical lens if you are just starting out, and it is much faster than any zoom lens in the mildest ballpark of price. On crop sensors, 50mm becomes a short telephoto, but still offers some good flexibility. On a full-frame FX camera, 50mm is more ideal, offering a very natural perspective that lets you create isolation in your framing while not being too tight.
EF-S Zoom Lenses
Canon EF-S 17-55mm f/2.8 IS USM
The Nikon 17-55mm f/2.8 is the classic midrange zoom for DX cameras with pro-level specs. While it offers a more limited zoom range than the Nikon 16-80mm, you get a constant, fast f/2.8 aperture and very fast AF performance. The range of 17-55mm covers you from wide-angle to short telephoto, which makes this a viable single lens option for smaller shows.
EF Zoom Lenses
Canon EF 16-35mm f/2.8L II USM
The Canon 16-35mm f/2.8L is an ultra-wide zoom. It's a great compliment to a midrange 24-70mm, and while it has some overlap, the 16mm end provides a very unique ultra-wide perspective. This is a great lens for shooting atmospheric shots at venues and to use when you're right up close to the action.
Canon EF 16-35mm f/4L IS USM
The Canon 16-35mm f/4L is a really interesting option to the above f/2.8 lens. It trades a slower f/4 constant aperture for IS and a smaller form factor, while still keeping the L-lens designation for superior image quality. The interesting thing here is that one can more easily get away with an f/4 aperture at lower focal lengths like the 16-35mm range, due to the reciprocity rule of handholdable shutter speeds. Add in IS, and this is really viable option for your ultra-wide zoom.
Canon EF 24–105mm f/4L IS II USM
The Canon 24-105mm f/4L was a game-changer when it was introduced, and the new Mark II version is even better in terms of image quality. The 24-105mm range, while not as large as the Nikon 24-120mm f/4, still offers a nice wide-to-telephoto package for the concert photographer. This is very easily a contender for a single-lens solution. While it's not an f/2.8 zoom, here you get a relatively light and compact lens with IS and a really usable range for live music work.
Canon EF 24-70mm f/2.8L II USM
The Canon 24-70mm f/2.8L is just a great range and combines exceptional sharpness wide open with a fast f/2.8 aperture. There's a reason this lens is in basically every pro's bag. Here you get a wide to short telephoto, which is a super utilitarian range. This lens is perfect for shooting front of stage and general reportage work.
Canon's 24-70mm f/4L is a really interesting option for the event photographer. While it is a stop slower than the f/2.8 lens, you get a smaller, lighter lens that still maintains L-lens quality. To boot, you get IS thrown in, which makes this a solid option for any music photographer.
Canon EF 70-200mm f/2.8L IS II USM
The Canon 70-200mm f/2.8L IS is a perfect lens for shooting larger shows, where photographers may be positioned at a bit of a distance performers. It excels at music festivals and larger venues like arenas and amphitheaters, where the 200mm focal length helps close the distance on larger stages and performers like drummers at the back of the stage. I do recommend splurging for the IS version of Canon's 70-200mm — while it's not useful 100% of the time, especially for active performers, having the IS option for slower shows can be make the difference between nailing the shot or having camera shake.
Canon EF 70-200mm f/4L IS USM
The Canon 70-200mm f/4L IS gives all the benefits of the above f/2.8 lens, just in a smaller and more economical package. You simply give up a stop in light to get those savings. While f/4 is not always ideal, especially for telephoto lenses, even entry-level DSLRs offer fantastic high ISO performance. Again, I still recommend the IS version of this lens simply for added versatility for general photography, and the chance that for more static performers, IS may just save your shot. If you don't need to shoot in low light that often or more rarely use a telephoto lens, it can make sense to save a bit of cash and grab this option.
My Camera DSLR and Lenses for Concert Photography
Nikon D750:
I use two Nikon D750 for my live music photography. Amazing high ISO performance in a compact body with tons of pro features.
Nikon 24-70mm f/2.8:
For most gigs, the 24-70mm is my go-to lens. Exceptional image quality at wide apertures and super-functional range.
Nikon 70-200mm f/2.8 VR:
A perfect pair to the Nikon 24-70mm f/2.8, I can basically shoot any job with the midrange and this lens. Superb image quality.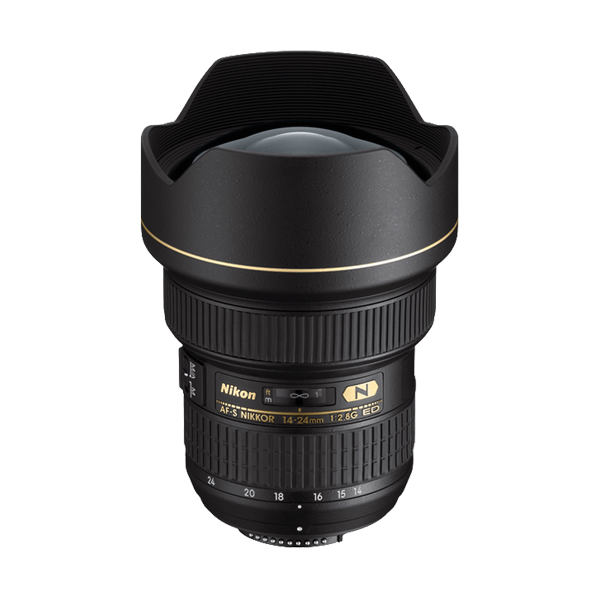 Nikon 14-24mm f/2.8:
Ultra-wide perspective, ridiculously sharp even wide open at f/2.8. I love using this lens up-close and personal, where it excels.
Help Support www.ishootshows.com
If this article or any other content on www.ishootshows.com was helpful to you, please consider supporting this site and grabbing your next photo gear purchase through one of my affiliate links: